Bristolpaedresp.org.uk Review:
Bristol Paediatric Respiratory Medicine - asthma CF
- Bristol Children's Hospital Paediatric Respiratory Medicine - asthma, cystic fibrosis, courses and guidelines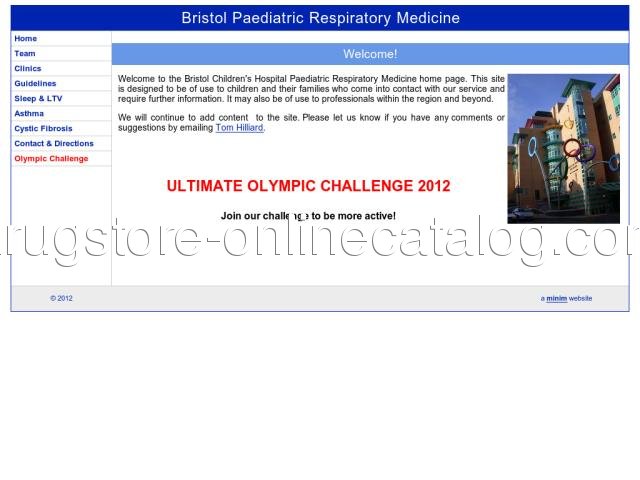 Country: Europe, GB, United Kingdom
City: EN8 Waltham Cross, Hertfordshire
Murray Family - Saved my life too...

I to have been a success story of this diet. Diagnosed with ulcerative colitis 2 months after my son was born (14 months ago) I was put on a ton of meds that didn't work, and was told diet had nothing to do with it. I was taking so many pills and enemas where beforehand I didn't even take aspirin. Just before I tried the meds that would prevent me from having more kids, I tried the diet. I am so thankful I did. It is hard to stick to, but I think that is mostly b/c I am pregnant again and craving. Yes, that's right, I got well enough to get pregnant again. If you have the willpower and you want to be well, it will happen. I have been eating this way for 5 months now, and for about the first 4 I was still having small, day long flares and giving up hope. But I told myself to stick with it for 6 months STRICT and I did. You have to modify things. Like I can't eat too much honey or fruit at one time (or actually too much of any one thing at a time), but you learn as you go. I can't say how thankful I am, and how lucky I feel to have come across this. Nor how thankful I am Elaine wrote this book. After 5 months I am pill and med free, only being healed by the diet. It's not 100% yet, but seeing where I came from, I have NO doubts.

May she rest in the most beautiful peace for saving all of us.
Dale S. - So far its working

Our 5 year old daughter has ulcerative colitis. The doctors have all kinds of medications to treat the symptoms, including a steroid, but nothing to cure it. We started this diet 4 months ago and have slowly weaned her off the steroid. So far she hasn't had any flare-ups. When she does have a flare-up, we will continue with the diet until completely cured. It will take about 3 to 5 years.
Dale Craig - Harnessing Unbridled Ambition

Sheryl Sandberg believes that not enough women are CEOs or close to it. She is less concerned about what happens in the corporate world below that level. Hanna Rosin, in "The End of Men and the Rise of Women" (2012), demonstrates how women now largely dominate middle-level management and also college graduate numbers. So male college finishers and men occupying middle-level management positions are more and more scarce, while the industrial and hard labor jobs are also drying up. This can lead to widespread dependency on women and a loss of self-respect for males within families.

Both these books are extremely valuable, and they are complimentary, but you wouldn't know that from reading Sandberg's book. She even manages to misspell Rosin's name in the end notes, and doesn't include her in the index. It's unfortunate, because taken together, these two books give a broad picture of what's happening to the roles of men and women in the workplace.

The primary purpose of Sandberg's book is to inspire, and she's very effective at this. She urges women to aim high, be brave, insist on a place at the meeting table, and pay attention to the likeability factor, which can be summarized as: "If a woman is competent, she does not seem nice enough. If a woman seems really nice, she is considered more nice than competent."

Here's how to get a job: a senior director of marketing at eBay came to visit Sandberg and told her, "I want to apply to work with you at Facebook, so I thought about calling you and telling you all of the things I'm good at and. . .like to do. Then I figured that everyone was doing that. So instead, I want to ask you: What is your biggest problem, and how can I solve it?" Sandberg responded, "Recruiting is my biggest problem. And, yes, you can solve it."

Sandberg gives excellent protocols for choosing an ideal mentor. She believes that one should bring one's whole personality to work, and show emotion when that is appropriate. Women, according to her, can help create a workplace where it's O.K. to hug, nurture, or even cry. She recognizes the artificiality of having one personality at work and another at home.

Sandberg urges parental leave for both men and women and even close parking places for pregnant women. But she asks women to work as long as possible and to make plans for returning to work as soon as possible. She sees many women lose promotions and more sophisticated work because they give up too early due to pregnancy or even the thought of one day having a baby.

Sandberg asks that men and women really share the work in the home 50% - 50%. "As women must be more empowered at work, men must be more empowered at home. I have seen so many women inadvertently discourage their husbands from doing their share by being too controlling or critical."

Sandberg decries the myth of "having it all" or "doing it all." She no longer tries to work constant 12-hour days and sacrifices some opportunities so she can be with her children at important times.

Sandberg says that sexist innuendoes such as being labeled a "feminist" should not be ignored, but faced boldly and dealt with immediately. She exhorts women to work together toward equality, citing Betty Friedan's refusing to work with Gloria Steinem.

Bursting with research and footnotes and replete with helpful anecdotal vignettes, Sandberg's book shines with her sparkling personality and should be read by both men and women.
Alice In Wonderland - Third times the charm!

This is my third stroller for our almost 9 month old baby! I was all set on purchasing the Baby Jogger City Mini (as many who buy the Britax B-Agile have mentioned) when the salesperson said that she recommended the B-Agile over the BJCM. She pointed to all the "better thought out" features and the one that really stood out was the brake bar in the back. I'm not that tall (5'5") but even I could see myself kick that bar every time I would use the stroller. I also hated the look of the brake bar -- it was so large and unappealing. Plus, trying to press on the brake was tough; getting it to disengage was even tougher. But I LOVED all the color combos of the BJCM, the handle bar was a tad taller, the canopy a smidgen longer and the most important fact: that it was the original with that ingenious seat handle one-fold design. I like to support original design! But I couldn't help but be distracted by the brake bar. My second stroller is the Uppababy G-Luxe and we both tend to step on the back wheels when using it so I knew that if many others have complained about the brake bar then it's probably going to happen for us as well. My 2nd stroller is lightweight but just not the right one for frequent use. I wanted something super durable that wouldn't take up all of my trunk space! My usual stroller was a travel system Chicco Keyfit 30 Cortina. It has done me proud. I found it extremely easy to unfold and fold and attach the car seat for seamless, "covered" naps. But it really took up the full horizontal length of my trunk. And I realized that I would like to get my trunk back. At least 1/2 of it! So that's where I came to search for my 3rd and hopefully final stroller...(unless that is I have another baby!)...

On to the review of the Britax B-Agile: if it's your first baby, buy this stroller and be done with it! My excuse is that it wasn't out when my baby was born. As much as travel systems are great for newborn babies, this stroller works with any car seat to make it rear facing so that you can have your baby facing you. I use my Chicco Keyfit 30 and I like how high she sits in it in the B-Agile stroller. The actual stroller on its own is fantastic. The maneuverability is awesome; it truly glides and is effortless. The canopy has great coverage and I love the length in the front for growing legs. Seriously, not that a 5 year old should be sitting in it (toooldforastoller dot com, anyone?) but they really could fit in it!

I love the black with silver reflective material trim. It looks very chic. I had wanted a pretty color but now am really happy with the basic black -- it also doesn't look so terrible with my Midori green and gray Chicco car seat (which she will be outgrowing soon enough).

The one-hand fold gets me every time. That's worth the purchase price. I love that genius fold up design! (Sorry, BJCM!)