Mmcd.dk Review:
Medical Marijuana Club Danmark
- Medical Marijuana Movement. Det ikke narko det er medicin.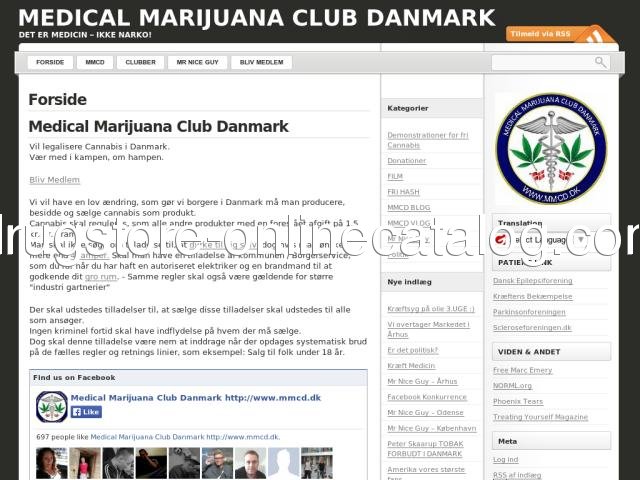 Country: Europe, DK, Denmark
City: Copenhagen, Capital Region
George Evans - Addicting!Once you start, you can't quit! Artie drags you through his life while you wonder, at every turn, how it could get worse. Yet, it does. Only by breaking your heart, time after time, does Artie ultimately reward you by surviving and succeeding. By being so honest, Artie reveals how dark the drug addled life truly is as starkly as anyone has before. Crash and Burn is both disturbing and encouraging. You will cheer for this underdog.
Shopping Maven - Improved feminine healthTaking these pills definitely helped me experience improved feminine health when taking these. They are not cheap but better than having a yeast infection!
C. Niles - Warning: Squeals of laughter from kidsWorth every penny I paid. My 5 year old loves to play it, has her squealing with laughter most of the time. Even watching her play has myself and my wife laughing a lot of the time.

As far as gameplay/controls, VERY good. Neither of my kids (5 and 2-1/2) have any problem with playing the game. This is not one of the Kinect games that doesn't work half the time. Very well designed and tested before release.
SierraC "Celestial" - Uneven, but with some GREAT pieces!Five stars for bringing to my attention some outstanding works. My favorite is Judy Copeland's "The Way I've Come." It had an immediacy, honesty, and charm that I rarely encounter except in short stories. Copeland's wonderful account works as well as a finely crafted piece of fiction while it also brings to life five young Papua New Guinea girls who assist the author not only with her difficult hike but also with her difficult place in life. I read it twice, and will read it again, it is so refreshing. Kevin Chroust's "The Bull Passes Through" was exhilarating as well as enlightening. John Jeremiah Sullivan's "A Prison, A Paradise," about a trip to Cuba with his wife and 6-year-old daughter, was well-developed and thoughtful. Colleen Kinder's "Blot Out" has a fascinating subject, but did not captivate me. Daniel Tyx's "The Year I Didn't" was stunningly artful, perceptive, and enjoyable. Tyx could write about the phone book and keep me mesmerized. These were followed by several works I found pedestrian and merely okay. Even David Sedaris's "Dentists Without Borders" did nothing for me, although you'll see that it is the favorite of several other reviewers. Given these contrasting reactions, let me cut to the chase and say, "If you read it, you are bound to find one or more pieces that you will love or at least greatly enjoy." We all have different expectations of travel writing and at least a few of these articles will meet or exceed your expectations. If you require that all nineteen included pieces hit the ball out of the park, you are sure to be disappointed.