Perthortho.com.au Review:
Perth Orthopaedic & Sports Medicine Centre | Orthopaedic Surgeons | Rheumatology | Sports Medicine | Injuries | Joint Replacement
- Founded in 1988, The Perth Orthopaedic and Sports Medicine Centre is the longest established, and one of the largest, Orthopaedic group practices in Perth.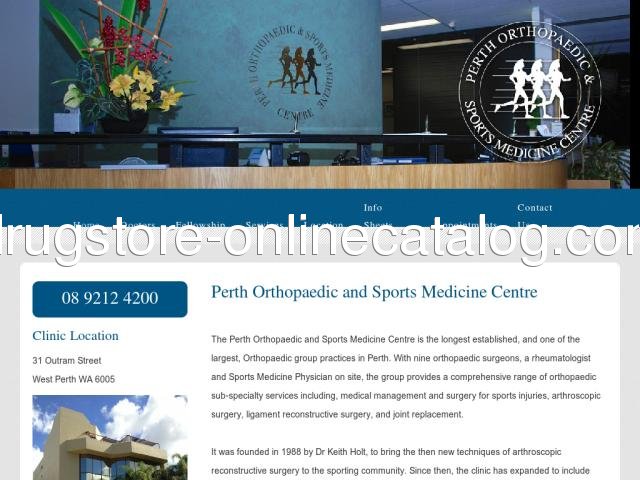 Country: Oceania, AU, Australia
Katie - Great productI really like this heating pad. It's soft and durable, is a good size and has easy controls. You're likely to find the perfect temperature setting, with 6 from which to choose. I usually only use it on 3, and that is very warm. If you like it hot, then I imagine you'll be very pleased with it turned up to 6. The best feature is the auto off -- set it to turn off in 2 hours or to stay on continuously.
Bargainfairy - great tabletI looked and researched for a long time before deciding on the Tab 2. For my purposes...email, searching the Internet, Facebook and the occasional photo, this suits me just fine. I also purchased a "for dummies" book to help me learn the finer points. I'm still in the learning curve but I was able to operate the tablet immediately. (And being 65, I don't have the skills of younger users) While I love the portability,this is a w i-fi only device!
More wine, please - Best baby carrierThis is the most comfortable carrier I've ever worn. Nice padding on the shoulder straps makes this very comfy to wear for long periods of time. The baby seems to like it too. My only complaint is that the arm holes seem really high for an infant to be able to put their arms through. My 2 month old sits pretty low in this and her arms just stick out the sides. Overall this is an excellent carrier and one that will last a long time-especially with the various carrying options. Love it.
dakinibean "dakinibean" - Keeping on keeping onI had intended to get some binders full of women to help organize my health-care system, which was in shambles, and a source of embarrassment and inefficiency. At the end of the day, we ended up with a mixed bunch of people, some of whom were better at organizing than others. 47% got together and arranged for things like food, which they felt they needed. A very, very, very small percentage, lets call them "entitled", developed this annoying habit of taking credit for work done by the team, didn't like some of the rules, and went all "Lord of the Flies" on everybody, causing tumult, tumult, and more tumult. A lot of the group got frustrated by what they viewed as selfishness and a disregard for others, and kind of wrote them off as liars who were only out for themselves, and valued profit over all other group values. We're hoping to work past that in our organization, since inclusivity is kind of our thing. It has been a little tough recently, but we'll pull through.